"Be not afraid of greatness
some are born great.
Some achieve greatness some achieve greatness and
some have greatness thrust upon them."
– William Shakespeare's Twelfth Night
For Tim Nagelkirk, life with Colonial Builders has been a combination of all three. Whether he came by his love of crafting wood genetically – his grandfather was a farmer, developer and builder, and his father founded Colonial Builders 40 years ago; or through his exposure as he's been on ride-alongs with both men since he was a wee tyke. There is certainly enough proof for both as he's been working at job sites since he could barely push a broom.
Of course, there's always the argument for good, old-fashioned hard work. Tim's been building decks and framing homes for his dad and other well-established builders since he was a teen. He studied architectural drafting and earned his business degree while attending college full time and framing and trimming nearly full time – sleep was optional. He also worked at a lumber yard to learn that side of the business, and worked his way up through Colonial, trimming and supervising crews, until it was time for him to take the reins of the business from his dad's capable hands over eight years ago.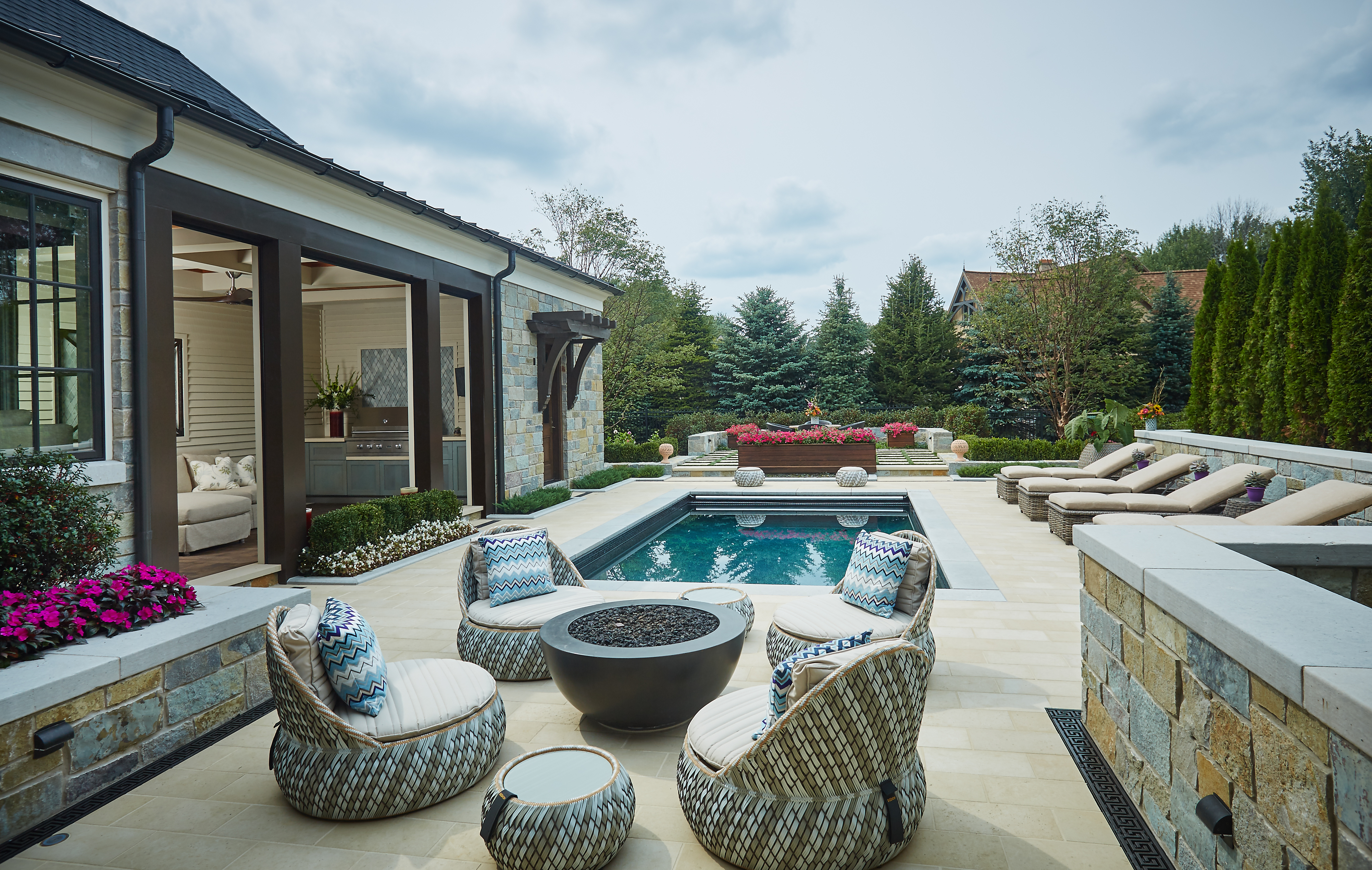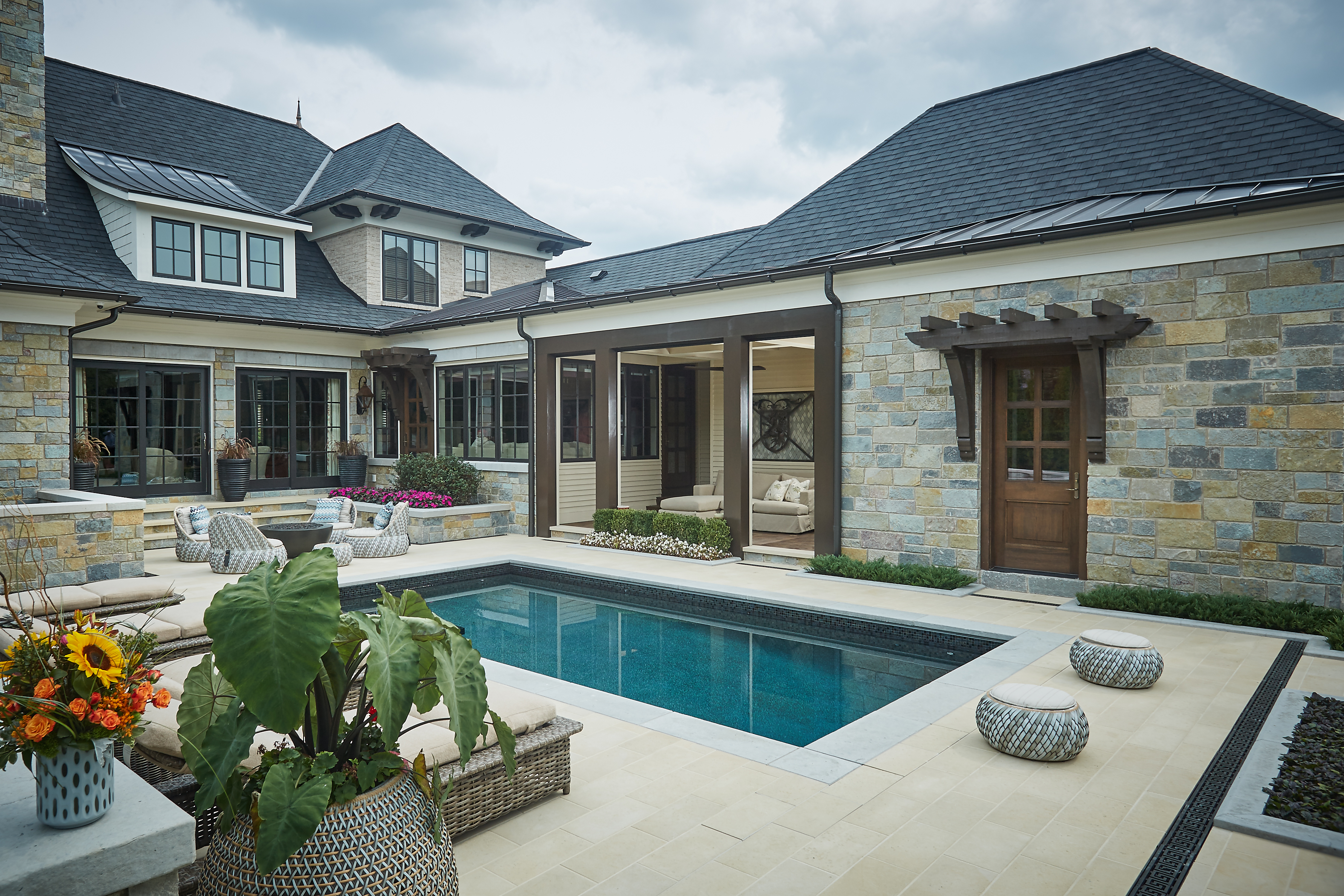 It was an easy choice for the homeowner who stated, "Tim is hands-on and honest, and after seeing other Colonial Homes in this area, I knew I liked his work."
The homeowner brought pictures of several different styles of homes to the preliminary meeting with architectural designer Jeff Visser. "I didn't know what I was looking for and he nailed it from the first rendering, meshing all the styles I liked together. We barely changed anything, and I was impressed," noted the homeowner.
The exterior is an electric combination of European influences including French country with Gothic touches. Traditional gutters would have compromised Visser's extended roof overhang, so Tim added Japanese rain chains as a graceful alternative to downspouts. The distinctive driveway is a permanent work of art as it was made eight inches thick from multi-color pours of cement in a graceful circular pattern. Full radiant heat will keep it visible in any season.
What began as a corner lot with almost no grade became a multi-level enchanted forest with the vision of Rob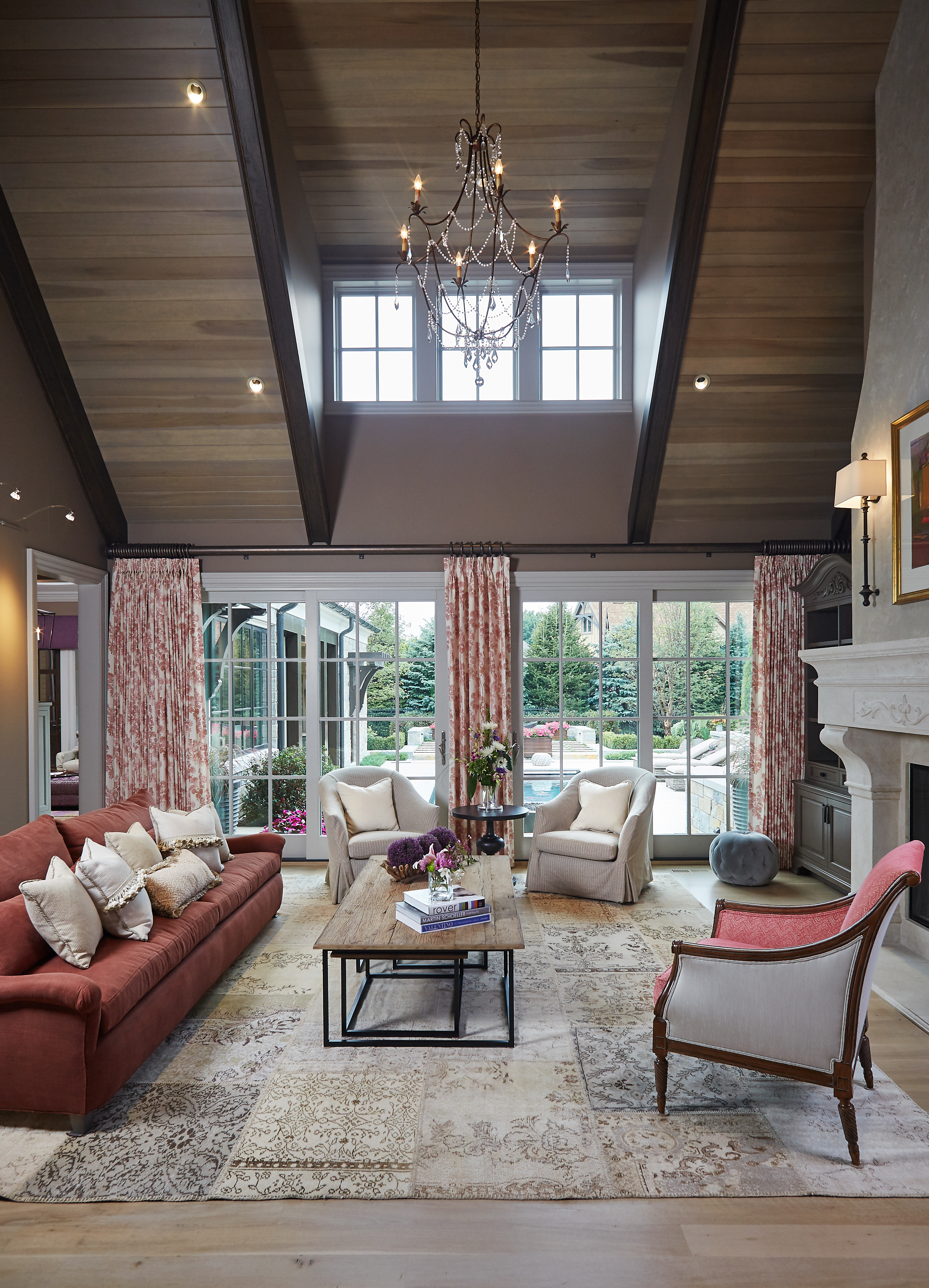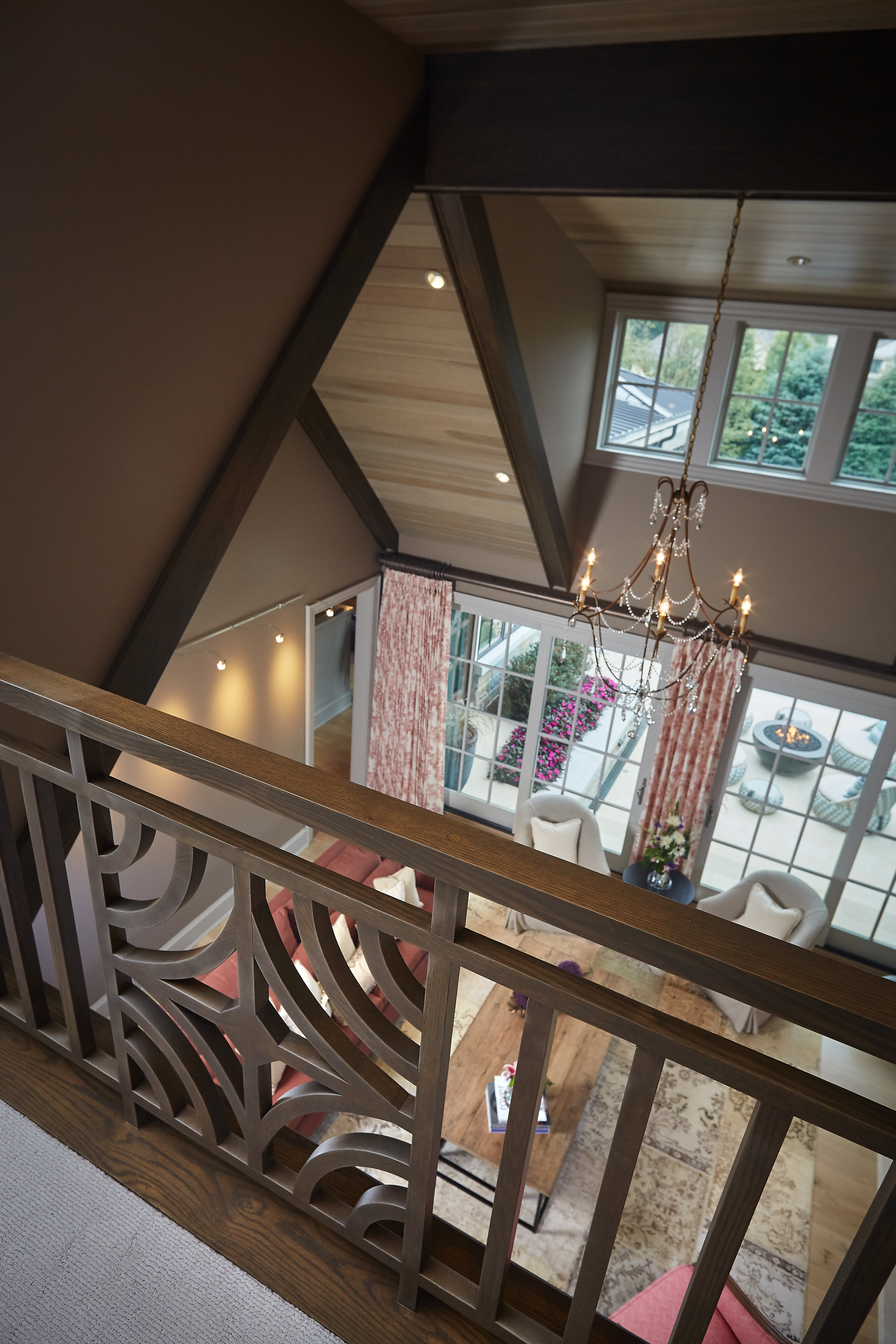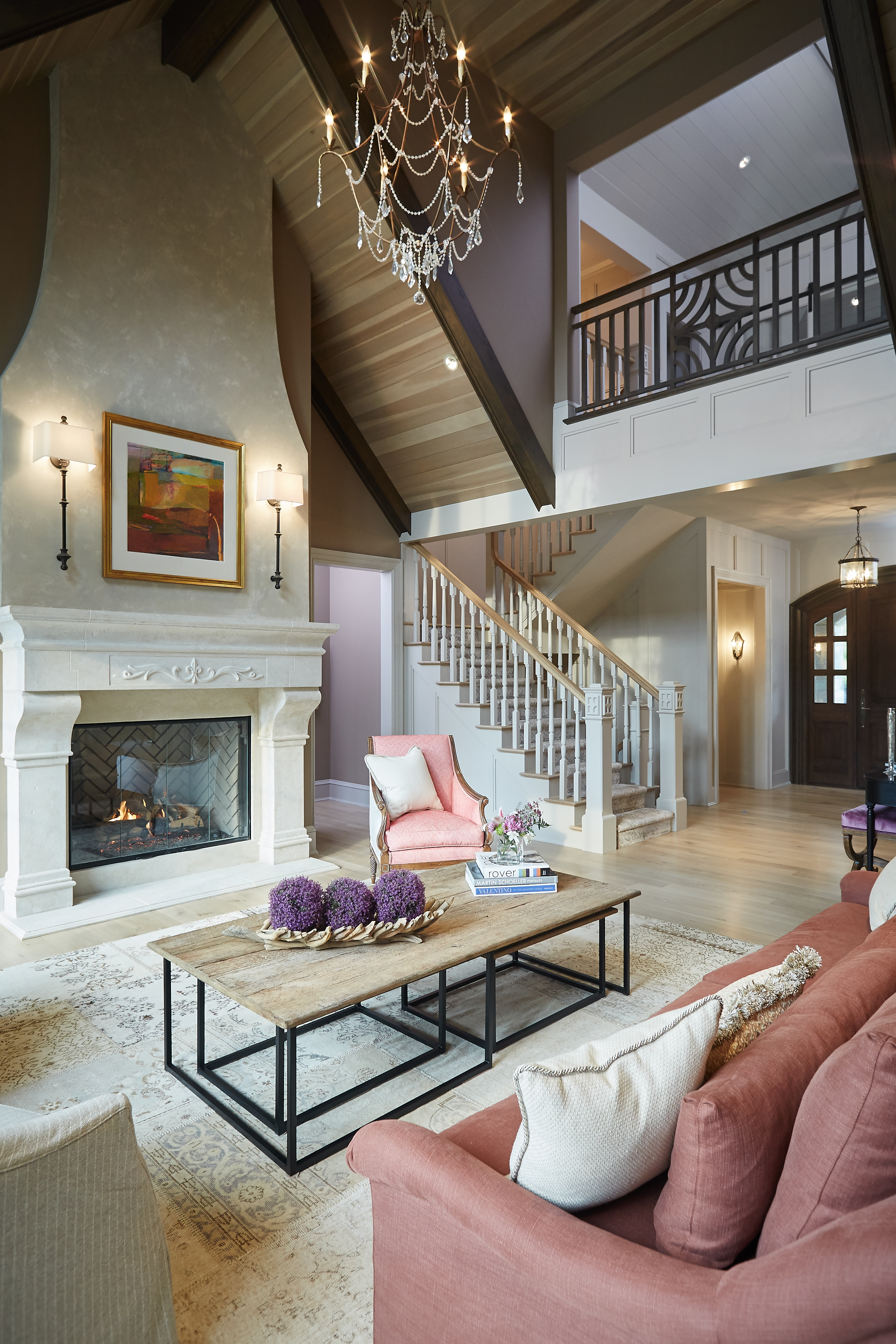 Cumming of Mountain Ridge. Time stated, "Rob can pull together intense ideas and design work. In addition to the exterior landscape architecture, he helped with material selection and influenced the interior architecture."
Rob added, "We were very fortunate to have a client who gave us permission to take a blank canvas and create what needed to be created. This site was a huge challenge with 270 degrees of visibility and limited space. We approached neighbors and planted fully-grown trees on their property to create an all-season perimeter screen that looks like it has been there forever. True-cut custom stone of oversized thickness helped shape the yard and add scale. A freshwater pool, creative plantings, and distinctive gathering areas form an outdoor oasis that changes in different lighting. Phantom screens close at the touch of a button to separate the grilling area from the outdoors.
Using the same imagery of a blank canvas, Tim compares this project to a painting where layers were continually added. "So much of the project morphed as it went along. We'd get to a certain point, and the homeowner's and design team's dream would grow, we'd catch the next vision of where the project would go."
Eight-foot, rift sawn white oak doors with eight-inch rift white oak trim flanked by full wall panels give the entrance the feel of an authentic estate. This is also the first introduction to the masterful woodwork detail that Tim and his Colonial Builders crew provided.
Stairs lead up from the main floor to the guest bedroom and bath, and an upper loft study just off the balcony whic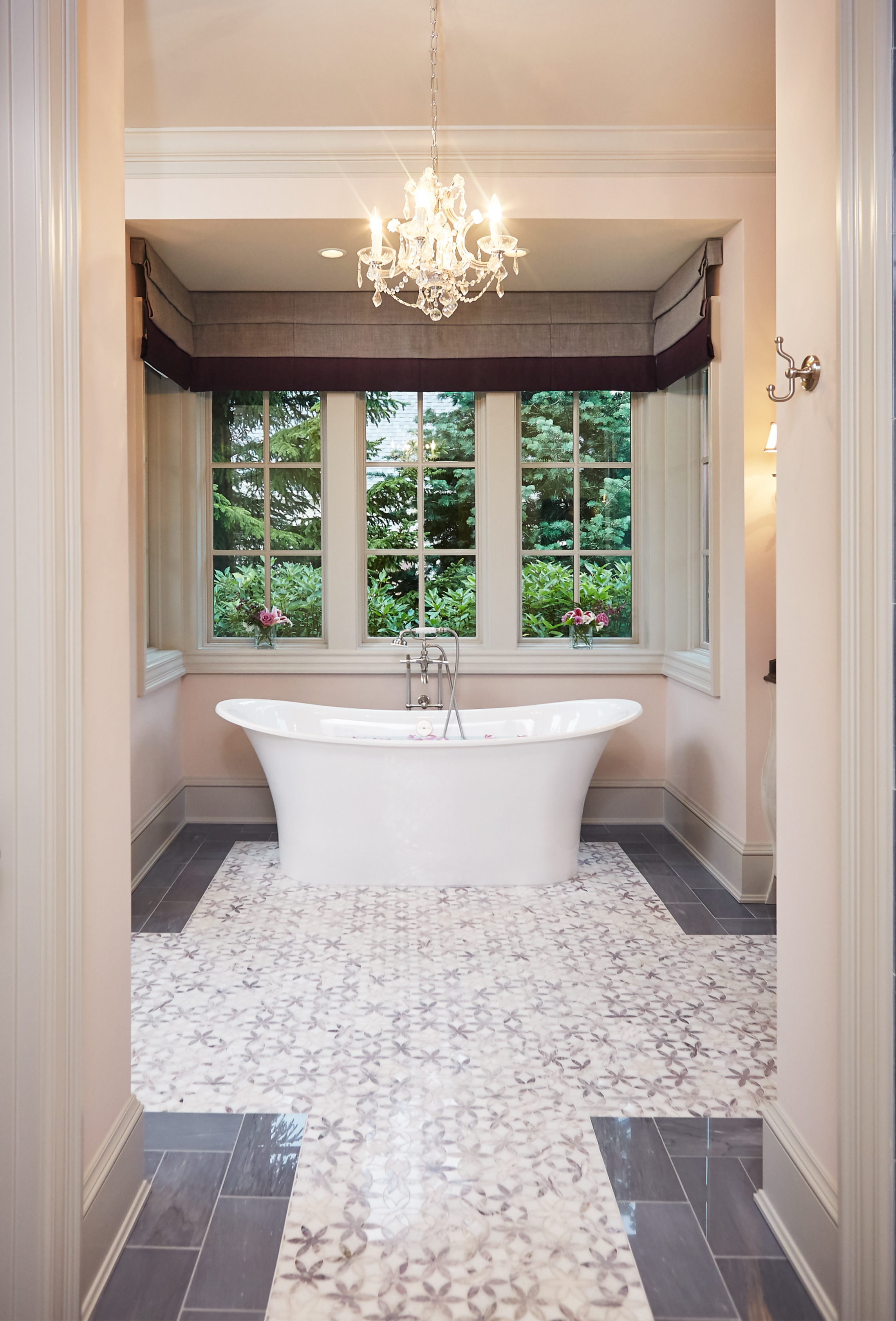 h is closed off with custom glass barn doors. Tim's custom woodworking is also highlighted in this room with a v-groove ceiling, beams, and full floor-to-ceiling panels. Tim is quick to credit his subs. "We've pulled together a great team of guys. We surround ourselves with good people, and they produce intricate, detailed work."
Jack and Jill's bedrooms are designed to capture a child's attention with a connecting loft area that crosses over the bedroom ceiling. Custom ladders in each room provide access to this imaginative space. There's also a built-in reading nook in one of the rooms.
The main floor owner's suite also takes full advantage of the enchanted forest view. A short hallway opens up to a dramatic hand-cut, marble mosaic floor leading to a beautiful soaking tub, Gorgeous floor-to-ceiling cabinetry, hand-cast shower tiles, and a built-in TV within custom mirror are features worth mentioning. The owner's closet features a built-in rolling ladder to access glassed-in storage, elegant handwoven carpet, custo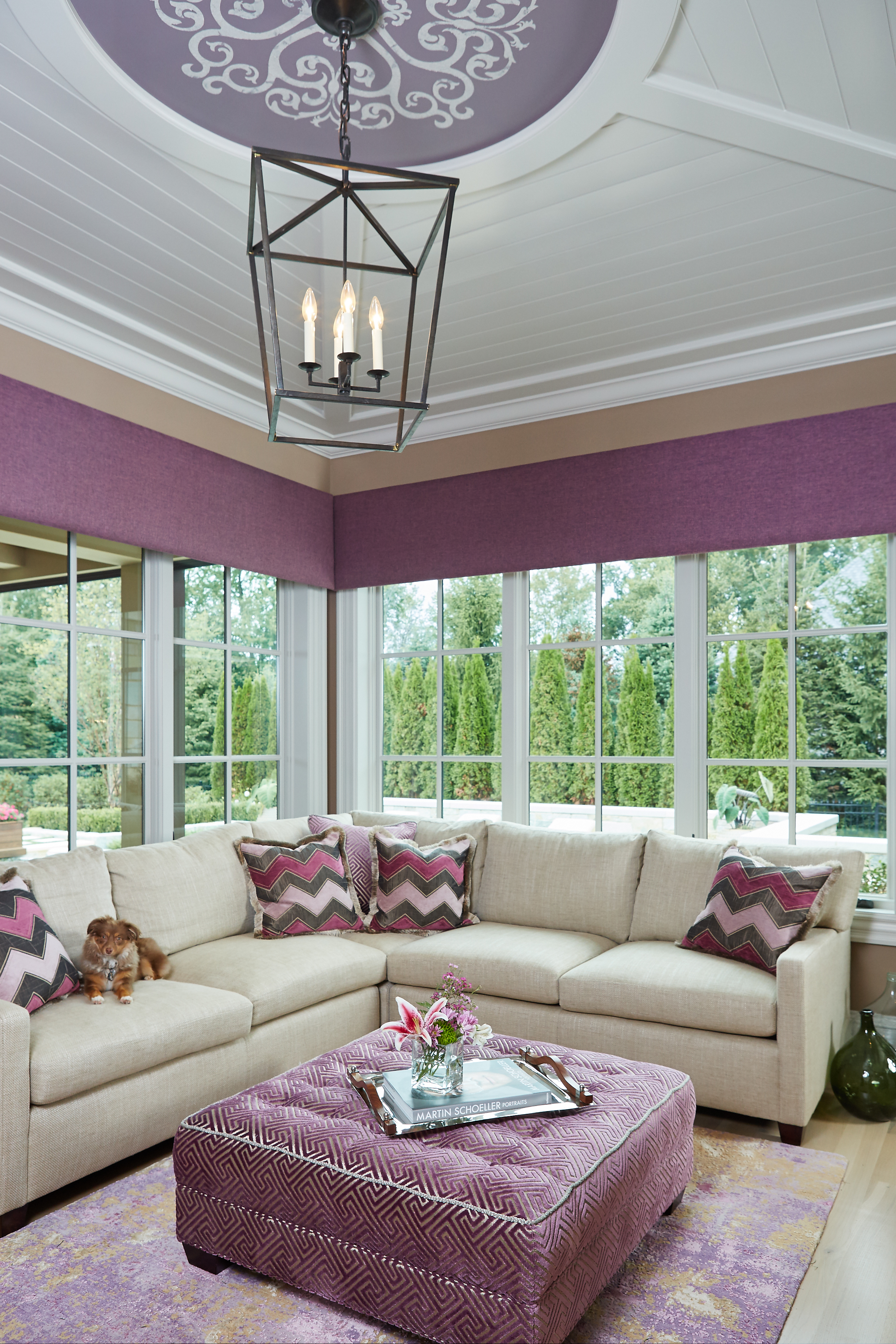 m detailed, granite-topped cosmetic and jewelry display features, and an elegant chandelier that reflects in faceted cabinetry handles.
The dining room features a hand-painted ceiling by local artist Diane Hasso who also stenciled in the sunroom ceiling.
Custom woodwork abounds in the kitchen with a built-in walnut booth and granite-topped island. Painted and glazed cabinets and a custom-crafted hood, hover over the Wolf stainless-steel range with a custom Ann Sacks tile backsplash. The chef will appreciate that Tim tucked the remote fan blower in the attic above for quiet operation. Kathie Turner of Thornapple Cabinetry added functionality and thoughtful, elegant design with features including an ice maker, custom plate holders, a hammered nickel sink, and food and beverage storage drawers. A glass pocket door separates the pantry where additional floor-to-ceiling cabinets and appliance garage storage is found.
The mudroom features beautiful, finished knotty alder cabinets and built-in dog kennels and feeding stations plus hand-cast tile floors. The laundry room also has beaded cabinetry, shelving, and custom dog-washing shower.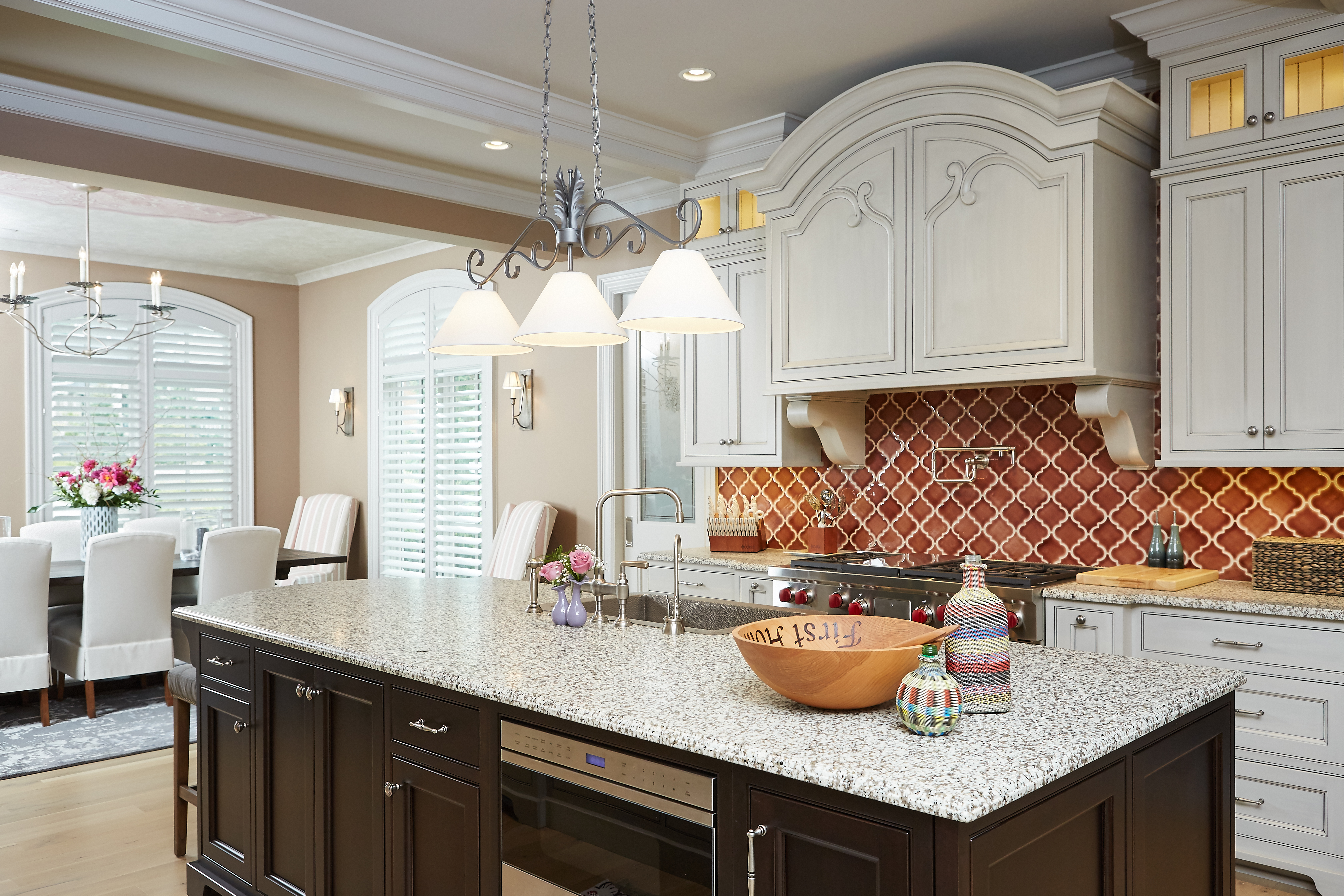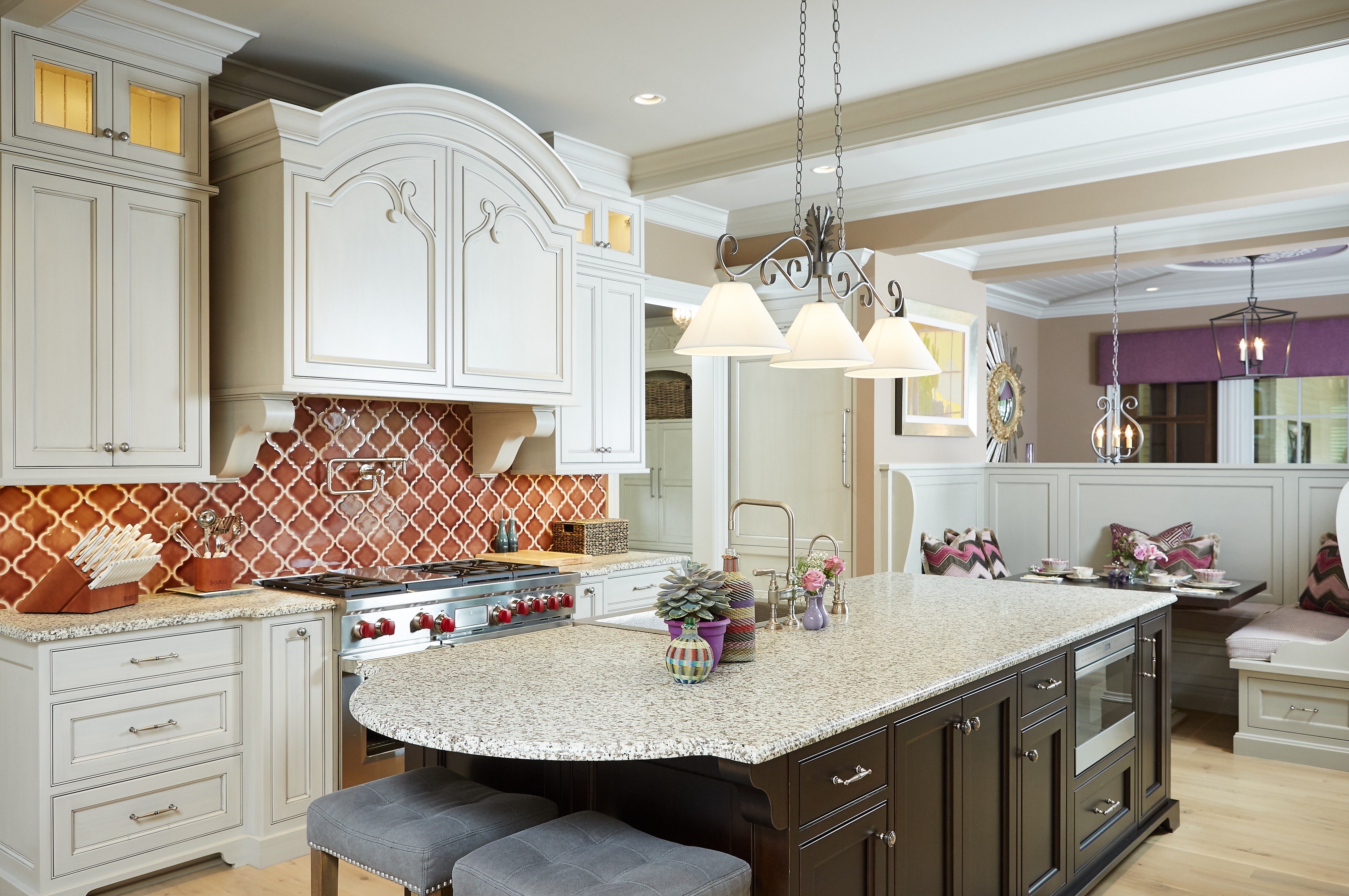 The sunroom draws immediate attention with a distinctive wagon-wheel wood ceiling – another display of the unique workmanship in which Colonial excels. This design surrounds Diane Hasso's elegant hand-painted ceilin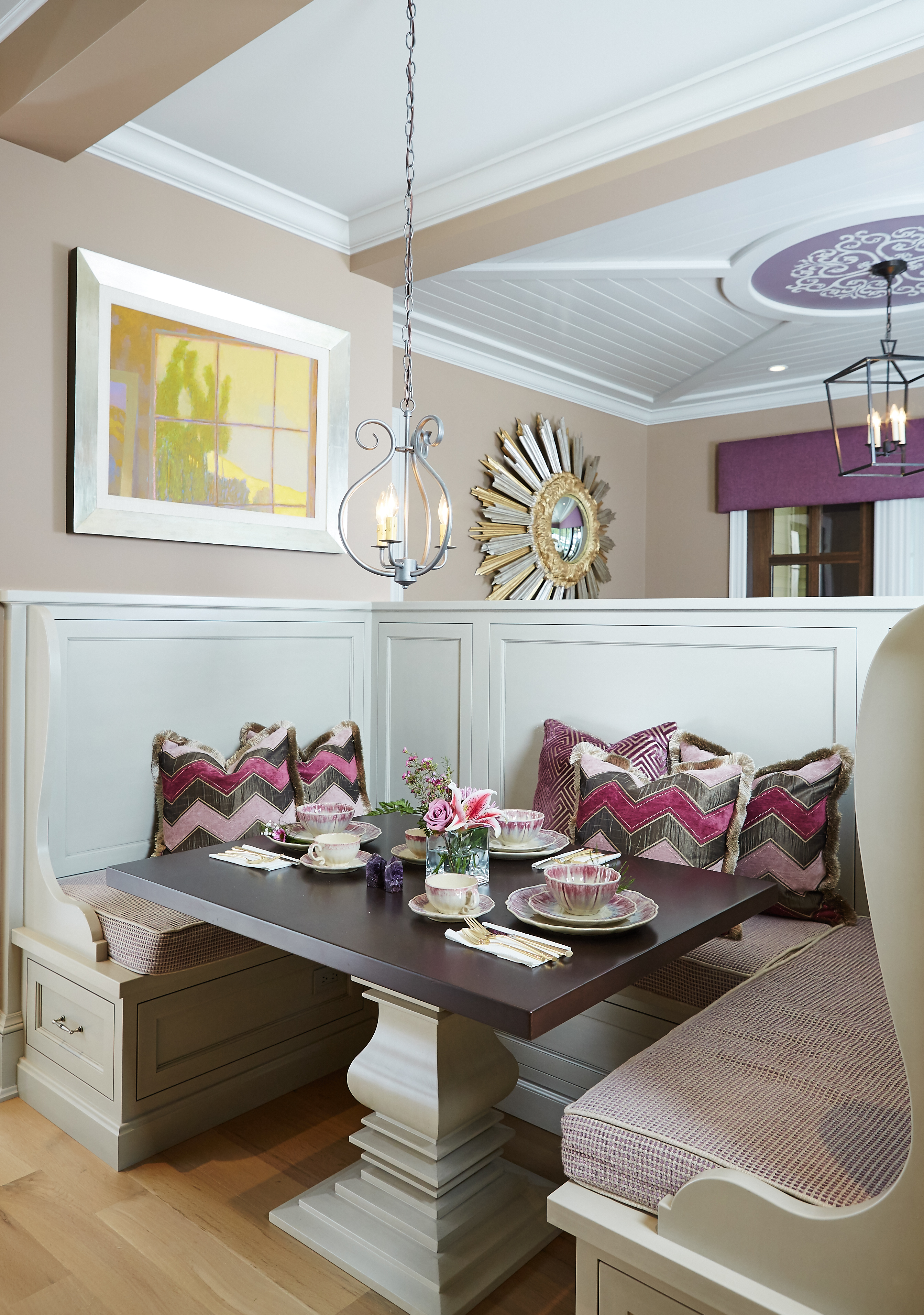 g stencil. This room opens onto the grilling patio and is filled with natural light from the gardens outside.
The focus of the lower level is comfortable spaces outfitted for entertaining. There's also a great kids' getaway tucked under the stairs and closed off by a metal swinging door featuring an iron coat of arms unicorn shield from the Harry Potter book series. The lower level great room is centered with a two-sided fireplace finished in seamless white oak with a heat-braised surround that brings out a pearlescent pattern in the steel. Tim adds his masterful woodworking touches with rift oak beams and conversation bar counter.
The full wet bar area has a glass tile wall, 3d convex TV, and is accessed through double action saloon doors. Next to the bar, double action saloon doors. Next to the bar, double sided, antique mirror doors close off a full exercise room with rubber floors for a comfortable workout.
At the lower level's other end is the crowning glory of any builder: a fully finished, high-efficiency, neatly organized mechanical room. This vast, behind-the-scenes space is a display of technology at its finest; where all the bells and whistles of this smart home are dialed in to the command central.
Just off the lower great room is an old-fashioned movie theater candy case that marks the entrance to a home theater that will discourage anyone from stepping into a public theater again. Opulent wool carpets, a fiber optic constellation ceiling, and thick curtains frame a raised stage highlighted by a 120-inch projection screen. Rift white oak bullnose treads lead to tiered rows of custom powered reclining seats. Integrated speakers in decorative sound panels ensure surround sound and the ultimate viewing experience.
"Working with Tim was an inspiration." noted Rob. "He had tons of insight, and his ideas and his energy were contagious. He was always prepared – including providing a portable heater during winter site visits."
Whether genetics, practiced experience, or raw talent, Tim and his team made a 6,700 square foot home feel comfortably homey with custom craftsmanship that only someone with a strong lineage in building can produce.