Nestled amidst a mature, wooded landscape in the Cascade area, a 10,000-plus square-foot-dream chateau deceives times. The estate appears to have been built generations prior and plucked from a serene country side in France. This distinct, European presence is exactly what the homeowners desired.
"As far as the look of the home, we wanted it to look like the stone work was right out of the fields," said the homeowner. "We very much wanted stone and brick and copper and slate and attention to detail, really, in all aspects."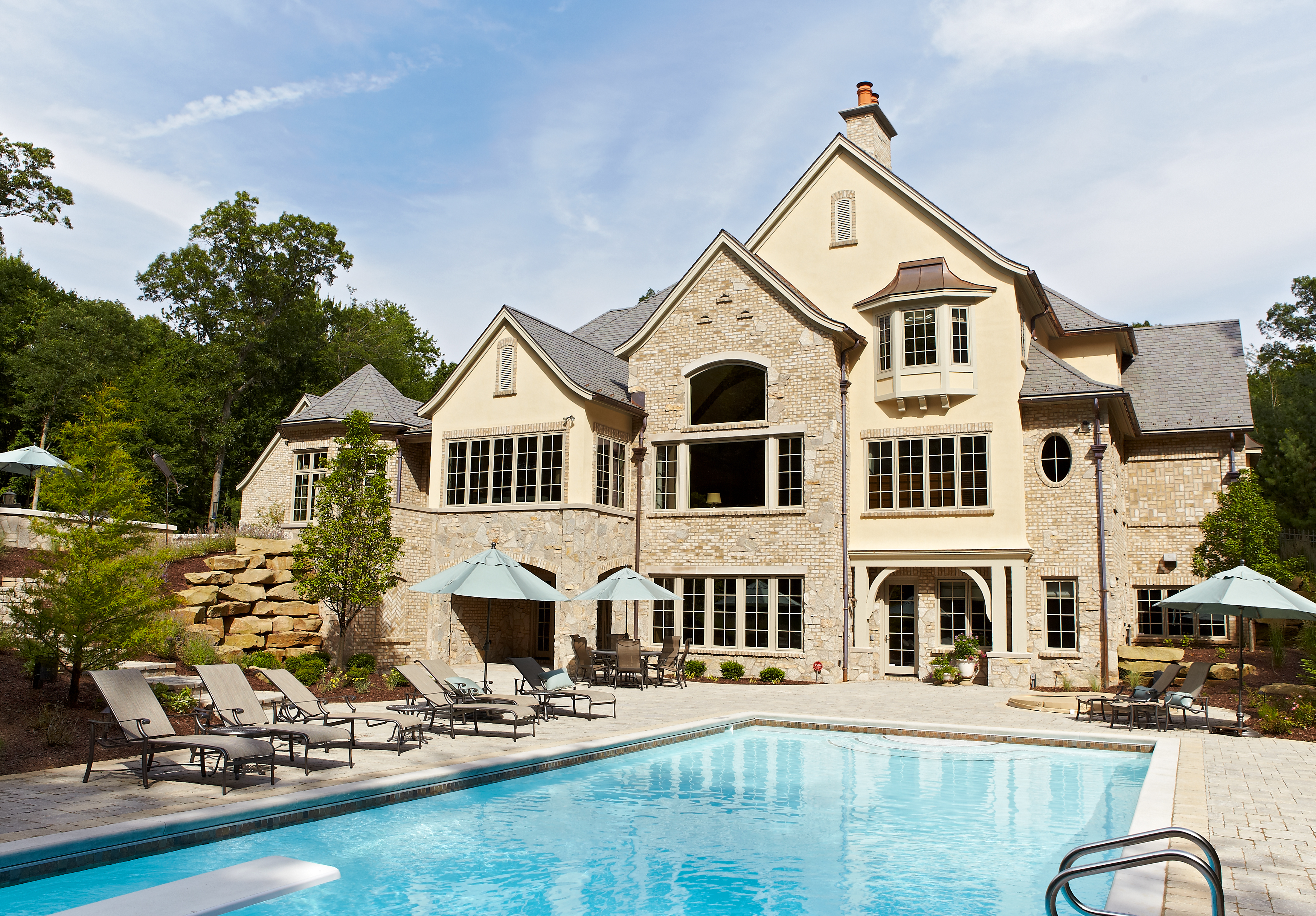 Ensuring a new, custom-built home looks as if it's an historical piece was a challenge welcomed by builder Tim Nagelkirk, owner of the 35 –year-old family business, Colonial Builders. To achieve the appearance desired, Tim Nagelkirk used authentic materials such as full bed stone mixture, brick, concrete stucco, copper slate, brick pavers and blue stone. Instead of saving the materials solely for the makeup of a façade, he implemented the materials throughout every area of the home to create a truly authentic feel.
"You see a lot of homes that presently attempt to go for the Old-World twist, but with this one, they really wanted to hold true to the authenticity of an Old World, eclectic home," said Nagelkirk.
Architecturally designed by Mark Frimodig, the house is a stunning sight upon arrival. The attention to detail is everywhere. For example, electronic-ignition, full-copper gas lantern fixtures punctuate the exterior's authenticity. Copper snow gems highlight a DaVinci synthetic slate roof. Swoop shed roof covers showcase box bay windows while Juliet rails complement the smaller ones. Perfecting minute details is inherent in Nagelkirk's signature style.
"My roots are carpentry so that's where I get excited," said Nagelkirk. If I can bring a detail to life, I'll work through the night to get it right… I love what I do."
And the details are everywhere starting with the driveway. A custom, 12-foot stone mosaic compass inlayed into the concrete serves as a tribute to the homeowner who is an avid outdoorsman.
Around to the rear of the home, a veranda wrapped with limestone and stone bench work and pool area feature substantial gas lanterns and lend to the home's timeless, authentic feel. Here, Nagelkirk's craftsmanship is subtly conveyed through a herringbone pattern inlayed into an arched opening, and a basket weave detail that breaks up a windowless brick wall on the outside of the home.
"There is not a spot within or around this home that we didn't take the time to assess. We wanted to maximize each space and not just have a big open blank canvas." Said Nagelkirk. "We try to put something within every canvas and create a detail, monumental or minimal. It's the subtle details that bring the class to a stately, high end home."
Once inside, front to back lighting floods sunshine through the kitchen and dining area which serves as a gathering place for homeowners, a couple with four grown children, who love to entertain.
"The kitchen is my absolute favorite space because it's large and has lots of room for when everyone is here – everyone always stands in the kitchen," said the homeowner.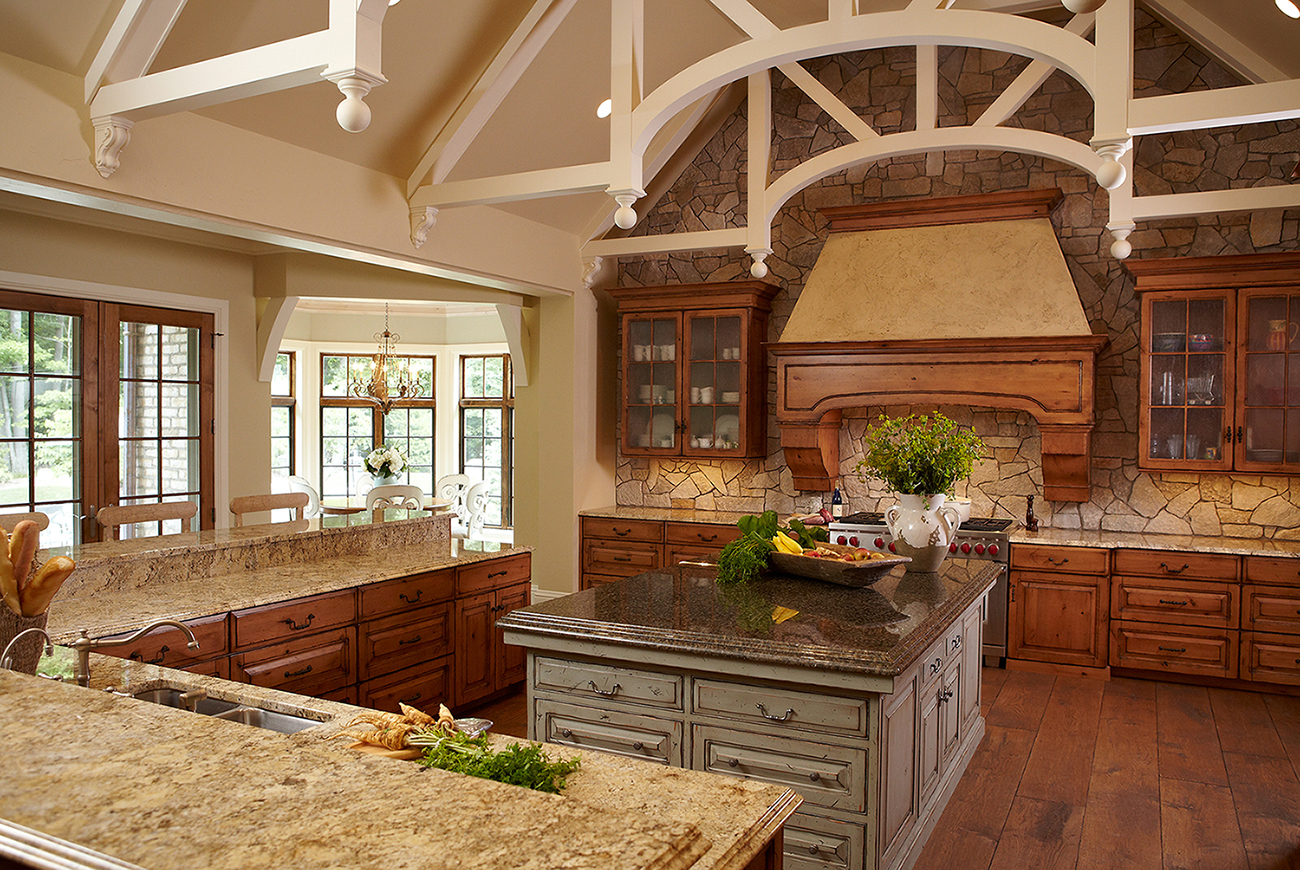 The design of the interior is centered on the use of high-quality, aged woods noted interior designer Lisa Keller. "It's a huge part of what aesthetically drove this house," said Keller.
To what end, wood planks line the floors of the kitchen to create an earthy feel. In addition, the design team interspersed different types of high-end woods and finishes throughout the kitchen area. For example, barn timbers decorate the entry ways leading to the great room and the dining room and site-built hammer beams highlight the ceiling of the kitchen and offer eye-catching detail. Hand-scraped trusses transplant the outdoors inside and an octagonal ceiling (see table of contents), styled over an eating area, creates a stunning design.
"The main floor has six very unique custom ceiling details." said Nagelkirk.
To achieve the aged feel of the home, different hardware was used throughout the kitchen. Keller noted it's important the hardware gels but is not identical.
"In period house like this, you want things to look well together, but you don't want them to necessarily match." she said.
Though the house is grand in size, the couple wanted the home to feel comfortable and inviting for themselves and guests.
"They both really wanted the house to feel warm but not 'lodgy.' And, they wanted it to be welcoming and not feel austere for its size." said Keller.
That goal was met by utilizing earthy, warm tones and manipulating scale and proportion. "There is a really casual elegance about the home which doesn't make you feel like you are in a barn or in a lodge," said Keller.
The home's cabinets were provided by Kathie Turner of Thornapple Cabinetry. "The finishes were probably the most authentic and detailed that we have produced," said Turner. "Some of the finished, had nearly 30 steps involved to achieve the 'antique effects' the customer desired.
From the bonnet-top cabinet in the butler's pantry to the spectacular kitchen with enormous hood was well as his and her individual offices, the exceptional lower level bar, master bath, laundry, wine room – each room in the home, it is all so special," said Turner.
"We married the rooms to each other so that you knew you were in the same space," said Keller. "But, we gave them each their own ceiling height and ceiling treatment. We did a lot of wood on the ceiling to bring the ceilings down so they wouldn't feel like these huge dry wall ceilings that feel kind of cold and not cozy.
      s.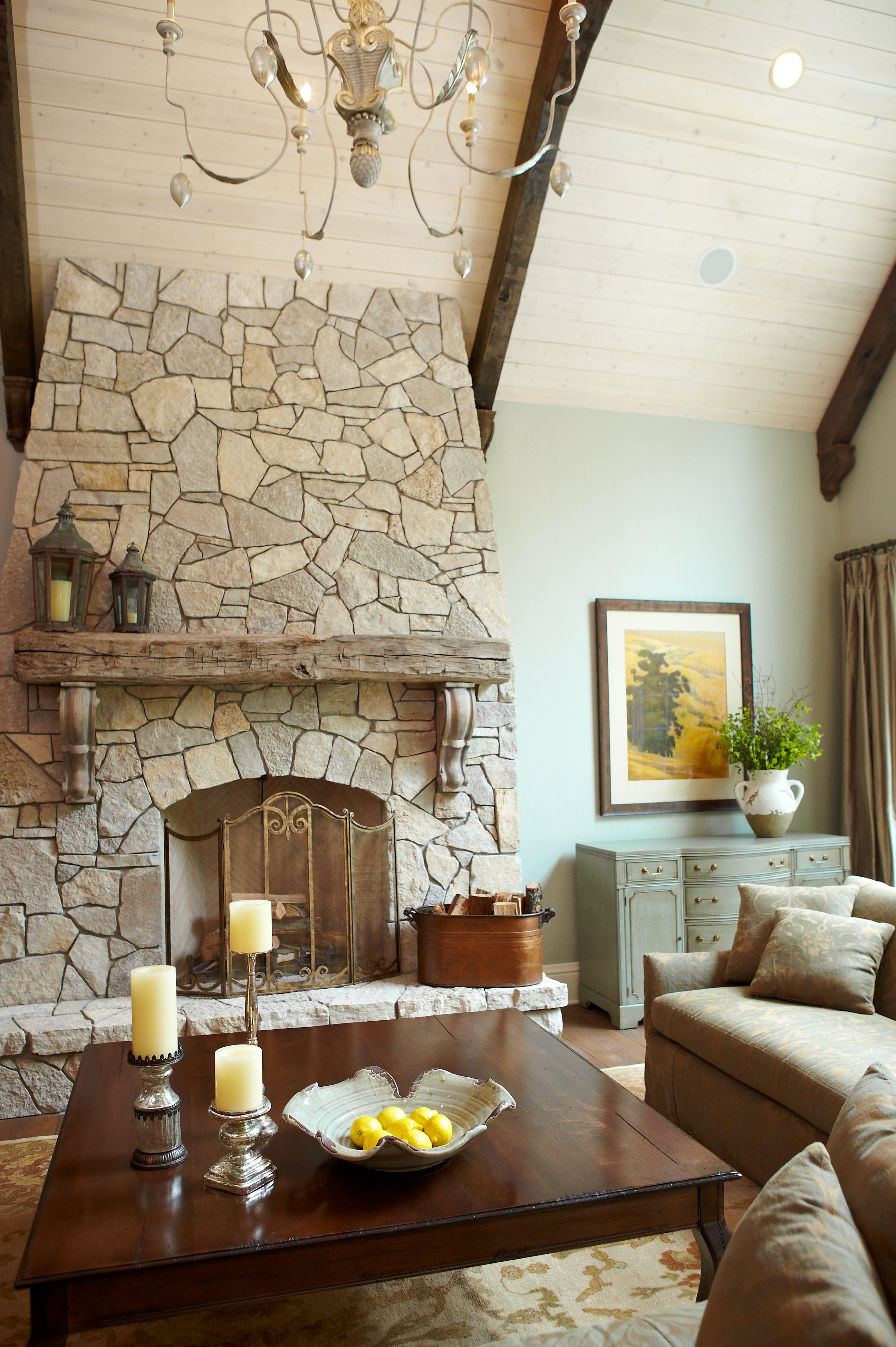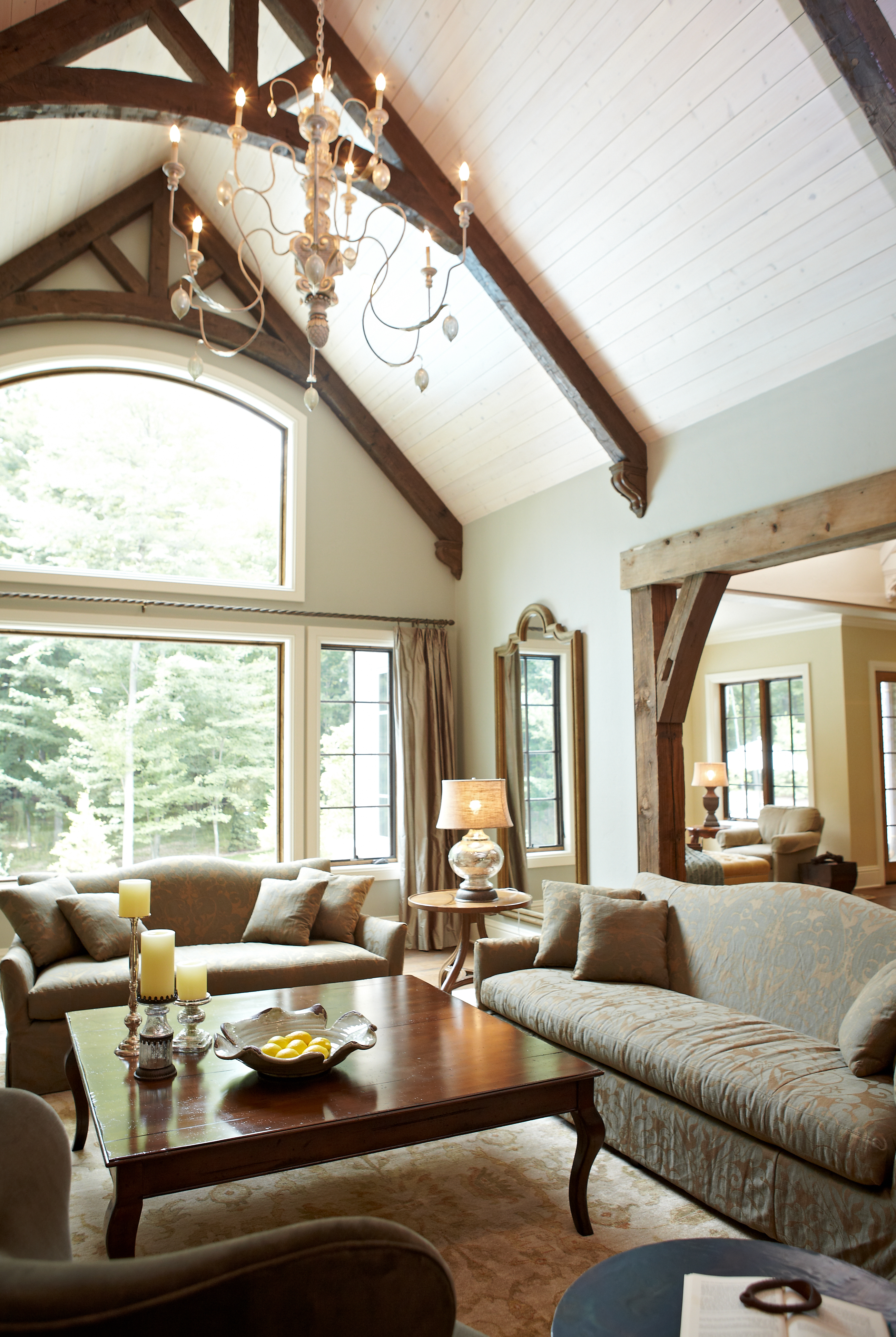 "It was just a ton of different detail." said Nagelkirk. "Every room has its own ambiance and liveliness to it."
The lower level features a custom-built wine cellar and an impressive bar making it the optimal space for entertaining.
"It's real functioning bar that truly gives you the felling like you are seated at a classic bar downtown," said Nagelkirk. He is committed to excellence in all of the homes he constructs. His signature style is chiseled into each distinctive feature.
"I love bringing a dream, photo or a drawing to life," he said.
For the homeowners, their space is their dream home realized – rugged, and refined, with perfection layered into every last detail.
"We feel very fortunate. We love our house, it's exactly what we wanted," said the owner. "I wouldn't change a thing."